Have you taken a good look at your windows lately? If they are nearing the end of their projected lifespan and are exhibiting signs of wear and tear, it might be time to plan for window replacement.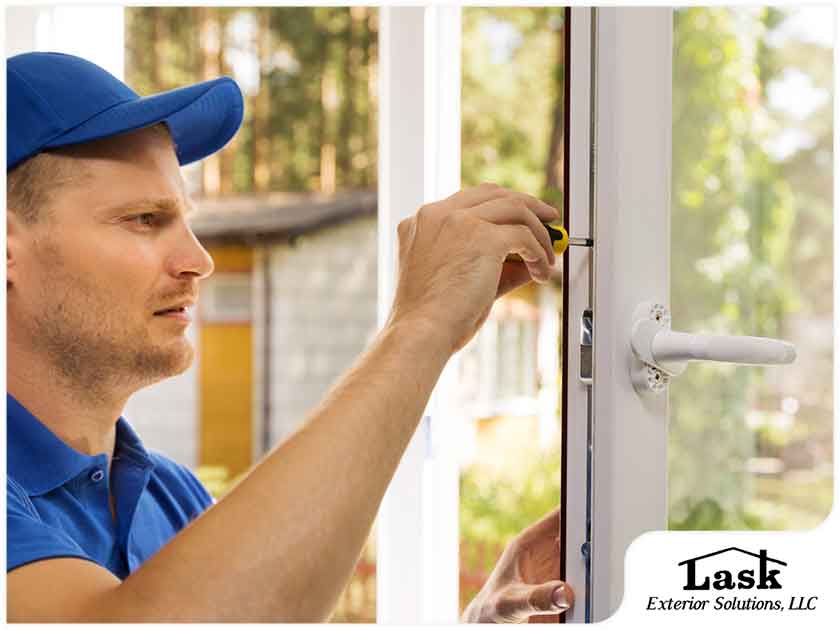 Window replacement is one of the important investments you'll ever make for your home. It can reap you many benefits, including savings on your heating and cooling bills, better soundproofing and weather protection, and a more enhanced appeal that helps increase your home's overall value. As with other types of home improvement, preparation is key to ensuring its success, and that means creating a budget for this project.
Lask Exterior Solutions, LLC is a trusted local window and roofing contractor. Today, we discuss what you need to know about budgeting for your window replacement.
Factors That Affect Your Window Replacement Budget
Ensuring the success of your window replacement requires putting together a detailed and accurate budget. Keep the following factors in mind as you create your budget:
Window Customization
Replacing your windows presents a great opportunity to boost your home's overall visual appeal. With the right style and design choice, your new units can become an integral part of your home's architectural style. As with all home improvement projects, window replacement will become costlier as you add more intricacy and detail to your units. That's why you should be careful with your selections not just in terms of the windows' style but also in regards to finishing touches like color, trim, grille pattern and hardware finish.
Standard window styles include double-hung, casement, bay and bow, sliding and picture windows, each offering unique advantages in terms of both functionality and aesthetics. Take advantage of the customizable options available to you if you want to enhance your home's architectural authenticity.
Window Size
Expect a bigger price tag if you choose bigger windows for your project. This isn't necessarily a con, however–the benefits offered by larger windows may more than make up for the additional cost. For instance, with larger windows, your home will become more attractive, making a greater impression when seen from the street. Bigger windows also let in more natural light, giving your home a cheerful, airy ambiance.
Bigger windows also help establish a seamless connection between your indoor and outdoor living spaces. With the right placement, you can bring the beauty of nature into your interior. For example, a perfectly placed picture window can frame a picturesque landscape or any interesting outdoor view into your kitchen or bedroom. A large sliding window can be installed adjacent to your garden or patio to provide a great view along with plenty of ventilation.
Bigger windows also mean better ventilation for your home. During the warmer months, you can simply open your operable windows to let cool breezes indoors. In doing so, you also help improve indoor air quality. As you let fresh air in, stale indoor air is vented out, and indoor humidity levels will go down, reducing the risk of mold and mildew growth.
Window Glass
The type of glass your windows are built with has a big factor on the overall performance of your new windows. Thanks to technological advancements and innovations, window manufacturers are now able to create replacement window units that combine aesthetic appeal and energy efficiency.
Look for units featuring two glass panes with low-emissivity (low-E) coatings applied on the surface. This important component allows vast amounts of natural light inside your home to reduce heat transfer during the warmer and colder months, leading to higher levels of indoor comfort. Make sure the units have spacers separating the glass panes and an argon or krypton gas fill in between. Both play an essential role in maintaining the window's' insulating properties.
Window Installation
As with a roofing and siding replacement, you want the window installation process to go as smoothly as possible to minimize the disturbance to your daily routine. However, if the window pros find extensive rot around the wall opening, they will have to repair that issue before they can proceed with the installation This increase the cost of the project, which is why it's a good idea to include a contingency fund into your budget.
The success of your window replacement hinges on your choice of contractor for the job. See to it that they offer high-quality replacement units that can boost your home's comfort, energy efficiency and beauty. Just as important, learn about their installation process. Are they organized? Do they streamline each phase of the project well? Do they follow the manufacturer's guidelines to a T?
Tips for Preparing Your Window Replacement Budget
After learning everything above, it is time to create your budget for your window replacement project. Here are some tips to keep in mind to help you get through it as easily as possible.
Plan Ahead of Time
Never dive into a window replacement project without first determining how you'll be funding it; doing so may bring you trouble later on. Start by calculating your income and expenses and assessing your wants and needs. Then, take your cash flow, assets and possible return on investment into account. From there, you can finalize the figures to be set aside for the project to make sure you can afford everything. Make the process easier by consulting with local window professionals. They'll be ready to listen to your needs and determine a budget that matches your needs and your current resources.
Consider Window Disposal
It is also important that you factor in window disposal as you create your window replacement budget. The removal of the old windows and the cleanup of the work area after the completion of the project may involve additional costs. While this shouldn't be a huge expense, you still have to consider it as you prepare your budget. Check if cleanup and disposal costs are outlined in your estimate; if not, don't hesitate to ask your window contractor about this.
Determine Your Source of Funds
It's ideal if you have enough cash on hand to completely fund your project. If you don't have enough to cover the total costs, however, don't worry. You can take advantage of several financing options, including a personal loan or a home equity line of credit. Your credit card may also suffice, though this choice will incur a higher interest rate.
Allocate a Contingency in Your Budget
Unexpected expenses are not uncommon in home improvement projects. As discussed above, the installation crew may uncover underlying damage or deterioration around the window opening. This entails additional costs since they'll be doing repairs before the actual installation. Make sure that you set aside an emergency budget to cover such possibilities. It should be equal to at least 10%-20% of the project's total cost.
Lask Exterior Solutions, LLC is one of the most trusted roofers and window contractors in the region. As a leading window replacement contractor, we offer you only the best products that are sturdy, stable and beautiful. Our stunning vinyl replacement windows have a slim, refined mainframe design with sleek construction that complements any architectural style.
Give us a call at (815) 964-2220 to get started. You may also fill out our contact form to request a free estimate. We serve residents of Rockford, IL, and the surrounding communities.