Gutter Helmet® is designed to make gutter cleaning a thing of the past. This innovative gutter protection system is engineered to filter out seeds, leaves, debris and critters to prevent clogs from forming in your gutters. Most importantly, it completely eliminates the need to maintain your gutters on your own (or to pay a professional to do it).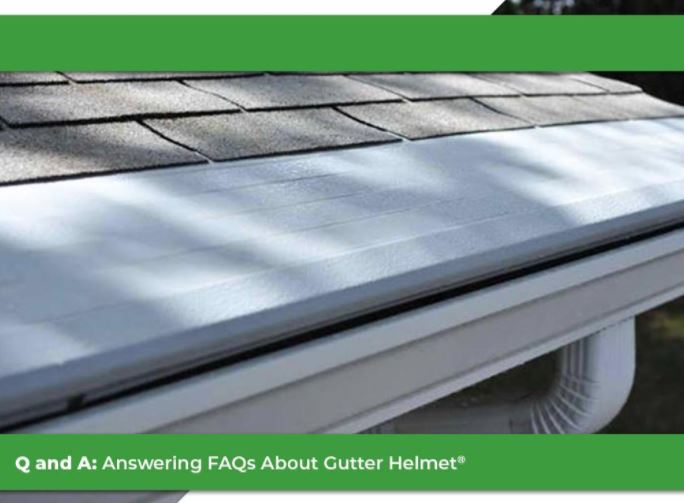 As the premier source of gutter protection services in the region, Lask Exterior Solutions, LLC answers the most commonly questions asked about Gutter Helmet below:
How Does It Work?
Gutter Helmet operates based on the principle of surface tension. Water clings to Gutter Helmet's textured surface until it flows downward into the gutters. At the same time, the system directs debris safely to the ground.
What Material Is It Made From?
Gutter Helmet gutter covers are made from durable, lightweight aluminum with horizontal stiffening ribs. The system is secured to your roof with aluminum alloy brackets. Gutter Helmet is coated with Kynar paint to resist fading and chalking throughout the years.
How Does It Compare to Other Gutter Protection Systems?
Unlike other gutter protection systems, Gutter Helmet has a hooded design. Products with a perforated or micro-mesh design still allow some forms of debris to enter the gutter, creating the risk of clogging. Gutter Helmet has no holes; just a narrow slit where the water passes through.
How Long Will It Last?
Gutter Helmet gutter guards are designed to last forever. They come with a lifetime transferable warranty, protecting your investment even after you sell your home. As the pioneer of the gutter protection industry, Gutter Helmet has more than 30 years of excellence under its belt.
For more questions about Gutter Helmet, turn to the product's most trusted local dealer, Lask Exterior Solutions, LLC. We've installed this gutter protection system for decades, making us the most qualified provider. Give us a call at (815) 788-6699 or fill out our contact form to schedule a free consultation. We serve homeowners in Rockford, IL, and nearby areas.