Commercial roof leakage can impact your business negatively in many ways. It will force you to deal with unexpected problems you might not have prepared for. Although dealing with a roof leak is a nuisance, ignoring it will only lead to bigger headaches.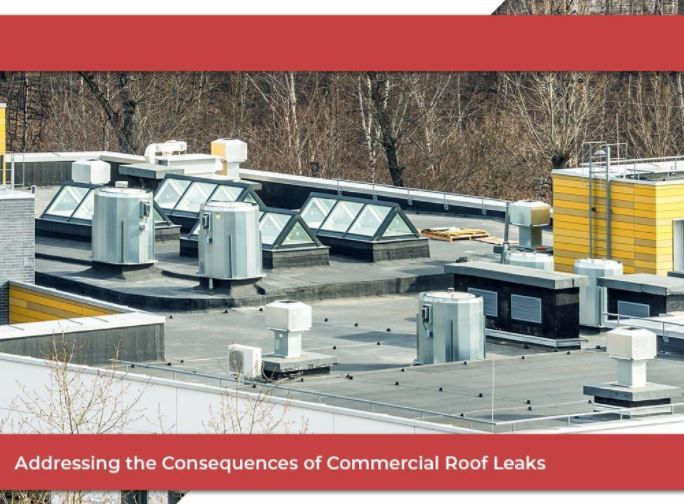 To keep bad from getting worse, Lask Exterior Solutions, LLC offers effective solutions to address the consequences of commercial roof leaks:
Wet Flooring
In addition to fixing your leaky roofing system, cleaning up the puddles on the floor with absorbent mats is critical to prevent slips and falls. Mark off the affected areas with proper signage until they're no longer slippery. It's imperative to deal with wet floors urgently to avoid liability concerns, the rigors of litigation and a potential PR crisis.
Saturated Insulation
Insulation and water don't mix. Wet insulation clumps, losing its effectiveness to do its one job. As part of your building maintenance routine, use infrared scans to identify soaked insulation early. While some kinds of insulation dry out over time, severe damage might render yours irreparable, necessitating prompt replacement.
Mold Growth
As your local roofing contractor, we deal with mold problems from roof leaks regularly. It's not uncommon for high-moisture areas to have black streaks since mold is everywhere and constantly waiting for optimum conditions to grow. Upon discovering mold contamination, detecting the source of the leak is necessary to prevent it from happening again.
Accelerated Roof Aging
A roof leak will accelerate the aging process of your roof. We can inspect your system and determine whether it would be more cost efficient to repair your existing roof or replace it with a new one.
Entrust the maintenance of your valuable asset to one of the most experienced roofers in the region. Since 1978, Lask Exterior Solutions, LLC has given commercial roofing systems expert care. Give us a call at (815) 788-6699 or fill out our contact form to schedule a free consultation. We serve clients in Rockford, IL, and nearby areas.